Akustiks has completed some of the most successful projects in North, Central and South America that are setting a new standard for performing arts centers. Auditorio Telmex in Guadalajara, Teatro del Bicentenario in León and the Teatro Mayor in Bogotá are some of the most recent.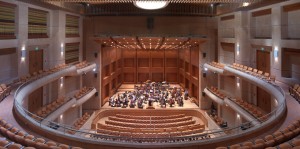 These and other successes have been possible due to a combination of factors: Akustiks' innovative concepts to the design of theaters, opera houses and concert halls successfully integrated into striking architectural design through our collaborative and holistic approach with local teams.
Our unique, hands-on experience to work with conductors and national orchestras during the design phase and also, during the tuning of our halls, listening to their input and comments and involving them and their valuable input in the fine-tuning of the spaces has been also fundamental for these successes.
After conducting in Teatro Mayor in Bogotá (Colombia), Daniel Barenboim defined the room as "one the best acoustics of a new-built theater in the world".  Maestro Enrique Batiz was also impressed with the Teatro Bicentenario in León, GTO considering it "the best acoustics in Mexico".
Currently, Akustiks is involved in the design of several ongoing projects: Conjunto de Artes Escénicas in Guadalajara (Mexico), Teatro in Centro de las Artes in San Luis Potosí  (Mexico), Teatro de la ciudad de Irapuato (Mexico), Palacio de Bellas Artes in Mexico City, the renovation of Teatro Colón in Bogotá (Colombia) and the new PAC for Colegio Nueva Granada also in Bogotá.
For more information about Akustiks' work in Central and South America please contact Chris Blair.